How can dermal fillers improve signs of aging?
Juvderm® is an injectable gel dermal filler made of hyaluronic acid, a naturally occurring substance in the skin that can restore lost volume in the aging face. Juvéderm® is a safe, FDA approved treatment that can improve flattened facial contours, fill in moderate to severe lines and wrinkles and enhance the way the skin reflects light. A variety of Juvéderm® products are available to target specific patient concerns including the volumize cheeks and lips and soften laugh lines. Results typically last 1-2 years.
How has your face changed over time?
As we age and lose facial volume, the contour of the face changes, causing shadow patterns to develop, while youthful highlights fade. Gaining a better understanding of how your face becomes altered over time may help you and Dr. Bernard decide on the best treatment options to address your individual concerns.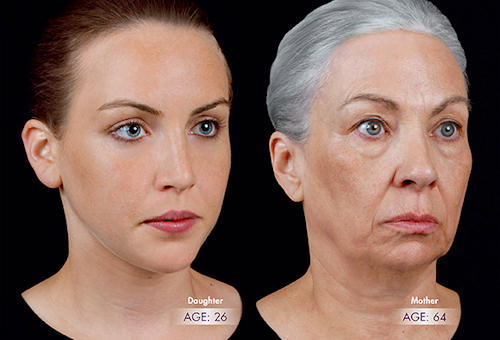 Dr. Bernard's philosophy
Dr. Bernard has a holistic approach to aesthetics, targeting areas of the face that are aging prematurely to create balance and harmony. She loves to create a unique journey with each patients and uses the lowest effective dose to ensure a natural result.
Patient case
This patient wanted to improve her eye area, specifically the undereye hollowness and texture.The first image shows her prior to receiving three syringes of filler by Dr. Bernard. The second image is 1 month later, when she was reassessed and Dr. Bernard added a small amount of undereye filler for refinement. The third photo demonstrates her final result, no makeup or retouching, lines diminished, skin lifted, and texture smoothed! A dramatic but natural result that enhances this patient's beauty, voilá!

Patient case
Actual patient treated by Dr. Bernard.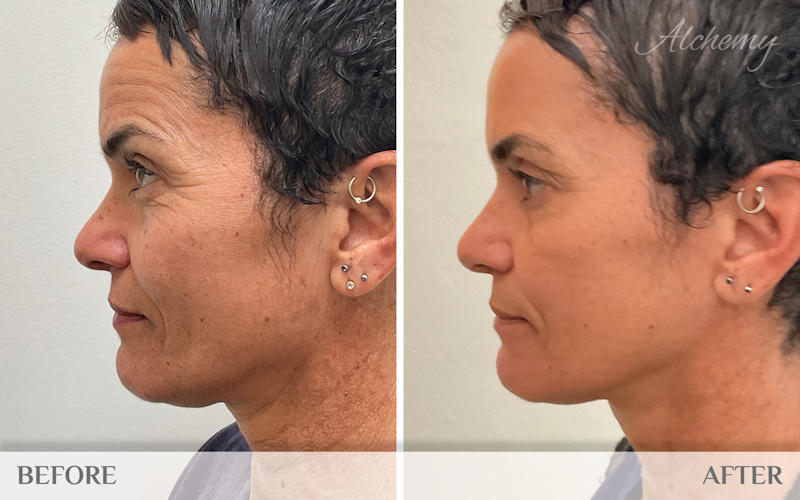 As a first-time filler client, I felt completely confident and comfortable in Dr. Natasha Bernard's very skilled hands. I love how detail-oriented she is. And, as an expert, intuitive osteopath of many years (to which I can also testify with deep gratitude), her knowledge of the facial structure and anatomy inside and out allowed very precise placement with no bruising and barely any inflammation.


GG, 48